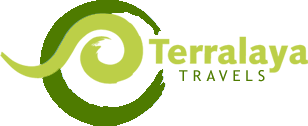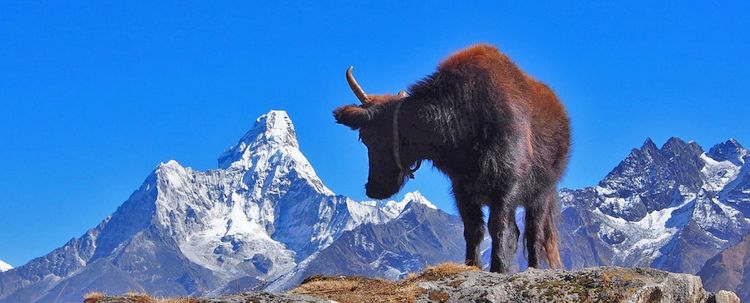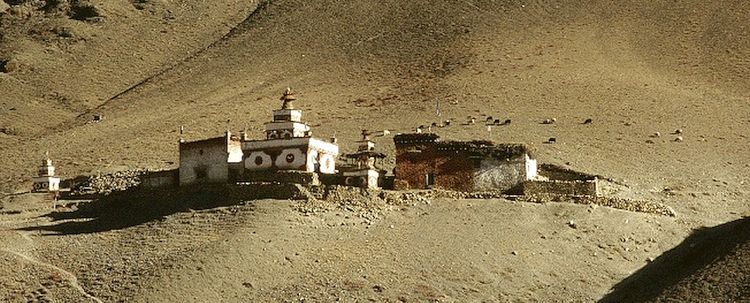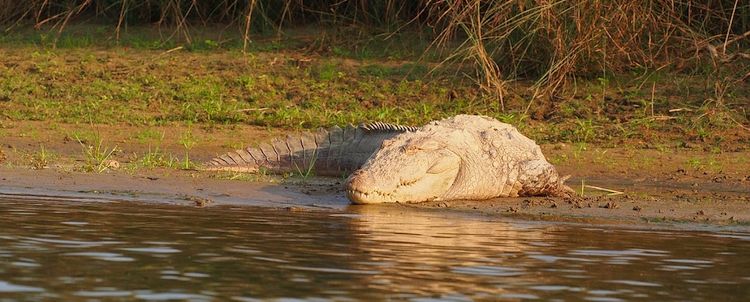 You are here :
Nepal – Diversity between Sky and Earth
Best Travel Period | Nepal in Brief | Peoples and Religions | Food| Flora and Fauna | National Parks and Nature Reserves | History | Economy | Festival Calendar | Mountain scenery and Trekking
Located with just under 150,000 km² of territory in the southern Himalayas, the Democratic Federal Republic of Nepal is of course not the biggest, but in fact the second highest country of our world. As a stretch of land, which seems narrow on the world map, Nepal, which is nestling between India and Tibet, doesn't only appeal to mountaineers by having the highest mountain on earth, Mount Everest. Also in its subtropical realms it boasts of countless other natural beauties, a for the relatively small expansion astonishingly extensive flora and fauna, its endearingly friendly people, and a surprising diversity of cultures, peoples and religions. A popular way to discover the country, has always been: on foot. Here is where the travelling form of trekking had its beginning, and the country is even today one of the world's most beautiful destinations for those who are close to nature and want to travel this way.
Extensive hiking tours lead from deep valleys up to the icy glaciers of the Himalayan giants - Mount Everest, Kangchenjunga, Lhotse and Annapurna are probably the most famous ones of the around 20 summits above 7,000 meters. An overview over possible trekking routes you will find under www.yetilaya.com; if you contact us, we'll be also pleased to assemble the individually most suitable trekking arrangement for you. Travelers in Nepal experience in a small space and up close an amazing diversity of landscape and ethnicities, here live over 100 different ethnic groups on a small space, each of which has its own share of the lived culture. As Nepal is one of the countries of origin of Buddhism, it has always also been attracting travelers who are looking for spiritual experiences.
If you want to relax, really leave the hectic everyday life behind, you will come closer to your true self in the immersive atmosphere of Nepal. We are happy to advise you about retreat possibilities, traveling with you to places of power, and explore the Buddhist heritage. But also comfort doesn't need to be neglected in Nepal: Among the available range of accommodations of every price category there are numerous hotels with a very high standard. You enjoy for example laid back wellness days at the hotel, and experience the country and its people in all their diversity on various (day)trips. How about a helicopter flight, which gives you a commanding view of the highest mountains in the world? Our travel module "Classic Nepal Roundtrip" can be arbitrarily adapted to your time window and your wishes, and can be conducted starting from one person at any time. Our local partners are well adjusted to the needs and wishes of our customers for over three decades. We're looking forward for you to contact us!
Best Travel Period
You'll ideally attempt to make a journey to Nepal in the time of our spring or our autumn. During our spring is also in Nepal bloom time, from March to May lure the rhododendrons and orchids with their colorful, fragrant splendor, and also wildlife watching and safaris are ideally possible at this time of the year. Has in late September the monsoon left the country, the now agreeable temperatures, and the fresh air are wonderful for trekking tours and because some folk festivals fall into this period, also outstanding cultural attractions are a given.
Location
Jan
Feb
March
Apr
May
June
July
Aug
Sept
Okt
Nov
Dez
max. / min. temperatures in °C
Kathmandu
18/2
20/4
25/7
29/11
30/16
29/19
29/20
29/20
28/19
27/14
23/8
19/3
Pokhara
19/7
21/8
26/12
30/16
30818
30/20
30821
30821
28/21
26/17
23/11
20/8
average rainfall in mm
Kathmandu
8
17
39
48
90
248
386
285
178
78
6
1
Pokhara
28
23
52
106
310
622
873
805
487
140
5
6
Nepal in Brief
| | |
| --- | --- |
| Location | Above the north western border of India, south of Tibet (China). |
| Area | 147.181 km² |
| Population | 26,494,504 inhabitants / 180 per sq km (2011) |
| Capital | Kathmandu |
| Districts | Five development regions, geographically oriented from west to east, 14 administrative zones, 75 districts. |
| Topography | Coming from the south, from the "Terai" of the Ganges plane, steeply rising to the midland up to 3000 meters, overall the second highest country in the world. Seven of the ten highest peaks in the world are in the north and east on Nepalese territory. |
| Vegetation | As a result of the very jagged surface of the Himalayas, which are rising here, very diverse vegetation zones can be found on a small space in Nepal. The Ganges plain is very fertile, and is being used with an increasing intensity for agriculture today. In the higher elevations until the treeline, forests with conifers, oak, chestnut and rhododendron can be found, then lower, high altitude vegetation. Often there is a significant difference in the climate and thus the vegetation of a northern and southern mountain slope are different. |
| Wildlife | As varied as the flora is also the fauna: over 800 species of birds, and more than 500 species of butterflies inhabit the skies of Nepal. From subtropical species of mammals such as elephants, rhinoceroses, tigers, bears, buffaloes, black and red deer, and countless species of monkeys in the Terai to sub- Himalayan wildlife including leopards, panthers, bears, marmots, red and black game, through to mountain sheep and goat species, which are adapted to the high altitudes, the diversity seems limitless. |
| Climate | In Nepal there is mainly subtropical climate, which even in the higher areas still ensures relatively mild temperatures. Monsoon, with much of rainfall and particularly high temperatures, is from June to September, the months of May and October represent transitional phases and in the months of November to April it is dry and comparatively cool. |
| Temperatures | Relatively high temperatures also in the regions which are located in higher altitudes, peak values up to 40 ° C; temperature example Kathmandu (1355 m above sea level): In the course of the year between 10 ° C and 24 ° C. Per 100 m high rise, a drop in temperature by 0.5 ° C to one degree Celsius must be expected |
| Precipitation | Low precipitation from October to May, with an average of 46 mm / m² per month, monsoon season from June to September with an average of 229 mm / m² rainfall per month. Annual average about 120 mm / m² rainfall per month. |
| Languages | The official language is Nepali, mother tongue of about 45% of the population. Almost 12% of the population speaks Maithili, Bhojpuri about 6%, other languages are Tamang, Tharu and Newari. Overall, there are analogous to the ethnic groups around 125 different language families. |
| Ethnicties | Over 100 Indo-Aryan and Tibetan-Burmese ethnic groups. The allocation is particularly difficult concerning Indian-origin ethnic groups, since a strong caste system is present, and to which caste someone belongs is partly more important than the ethnic group. Important tribes / castes are: Bahun, Chhetri, Newar, Sunwar, Rai, Tharu, Limbu, Gurung, Tamang, Bothia, Thakali and Sherpa. |
| Religions | Predominantly Hindus, about 13% are Buddhists, 5% Muslims. Christianity and various animistic religions are being practiced by minorities of less than 1% of the population. |
| Economy | Almost 70% of the population works in agriculture in the Terai. Rice, potatoes, corn and grain are being cultivated. At higher altitudes, the shepherds move across the pastures with their sheep and goats. The processing industry (especially textile industry, a little mining) represents an economic sector, followed by the service and tourism sector. |
| Getting there | By plane to Kathmandu or by land from India, for example in combination with the travel module "Darjeeling" or "Sikkim", combined with a domestic flight. |
| Visa / Entry permit | Identity card and passport with min. 6 months validity past the travel date, further a visa is required, which is available upon arrival. We take care of trekking- and special permissions, which for example are required to visit Mustang. |
| Vaccinations | In addition to the usual vaccinations, immunization against hepatitis, typhoid, Japanese encephalitis and rabies are recommended. |
Peoples and Religions
Nepal is a multiethnic state the way it is typical for the Himalayas, however, the original tribal peoples are also highly structured by a caste system here, which partially greatly complicates the determination of a clear belonging. The Bahun for example were originally "only" the members of the highest, the priestly caste, however, today they are to be considered an independent tribal community. It is similar with the Newar, a caste which is traditionally responsible for conducting festivals and ritual practices such as mask dances, although they are also demonstrably the one ethnic group, which settled in the Kathmandu Valley first. Seeing the Rai, who often work as farmers, one can perceive the common genetic roots until today, although today this tribe is divided into many sub-groups with different dialects.
But the best known, though by no means the largest tribal community are probably the Sherpa, a Tibetan ethnic group which traditionally belongs to Buddhism. They don't only provide successful shepherds and cattle breeders, but also frequently expedition accompanists, what brought them, in combination with their very friendly and outgoing nature, as the first ones in contact with foreigners, and carried their name across the borders. Anyone who visits Nepal on a holiday notices that the laws of the caste system are present everywhere, despite their official abolition by the legislature in the year of 1963, and that they are very important to the people living here.
The exercising of religious beliefs is, in spite of its presence in everyday life, on the other hand rather in the background, so that there are often within a tribe members both of Buddhism and Hinduism or of shamanism and other animistic religions, in different distributions depending on the settlement area. Members of Islam and Christianity belong in Nepal to the minorities, and are being seen a little suspiciously, the Christian schools however are highly regarded and enjoy a great popularity.
Food
The Nepalese population eats traditionally rice (bhat) and a nutritious, thick soup of lentils called "dhal". These food items are available in different, also for Europeans very attractive flavor varieties, which change according to the region and the time of the day. Curries with different vegetables provide fresh vitamins, when traveling vegetables as a durable, pickled version are popular to be carried along. In addition, the Nepalese like to eat sweet, and there is a tempting variety of cookies, cakes and other desserts. When trekking in Nepal, these confectionery items, which are often also available in a packaged form, provide many times a tasty energy boost. It is however not advisable to consume any raw and / or unpeeled fruits and vegetables, as appealing as the offer may be, especially in the Terai. In hotels and in most lodges the menu offer is nowadays anyway already adapted to western standards, and quite varied, so that the appetite for fruits and fresh vegetables can wonderfully satisfied here.
Flora and Fauna
Three different vegetation zones can be found in Nepal, which are adapted to the topography: in the Terai, in the subtropical jungle, which consists mostly of industrially used sal trees, banyan trees, kapok trees and poplar figs (also known as Buddha tree, pepul tree, pipul tree or bodhi tree) and bamboo, and is crisscrossed by many flowering beauties, live a few large predators like the Bengal tiger, panther, fishing cats and leopards, which feed on the here commonly occurring deer, wild boar, gaur (the largest living bovine), and especially monkeys. Also, the sloth bear can be found here, and uses the seemingly endless supply of insects to feed itself energy- dense food.
Especially in the national parks in Nepal also the endangered Indian rhinoceros and elephants are found, however, in the wild these animals are hardly to be encountered anymore. At higher altitudes, from about 1000 m above sea level onwards, vegetation and wildlife change: pine, chestnut, alder trees, oak and especially over 500 species of rhododendron form less dense forests, which are interspersed by shrubs and grasslands with increasing altitude. A variety of different, sometimes colorfully blooming herbs and grasses grows here, out of which more than a few are becoming increasingly important as medicinal plants. Here black and red deer find food, and shepherds are roaming about with their herds.
As farm animals in this medium altitude for agriculture particularly appreciated are the Dzo, a cross between yak and domestic cattle; Donkeys, mules and horses are carrying heavy loads. Before reaching the tree line at about 5000 m above sea level, the deciduous trees are first being completely replaced by conifers, and then finally by shrubs. Here occasionally even lives the snow leopard, and kills some of the goats and blue sheep, a herd of wild yaks is encountered now and then at altitudes above 3000 m.
National Parks und Nature Reserves
In the foothills of the southern Himalayas spreads out the Chitwan National Park as part of a more than 2,000 square kilometers of protected area. In the past, feudal big game hunters have built their camps there, today the park is a World Heritage Site, and many endangered animal species have not only survived, but their population has increased again many times. To these belong, in addition to more than 500 species of birds, above all the large cats like the Bengal tigers or leopards, and huge rhinoceroses and elephants wander through the terrain.
The wide variety of other mammals, the large number of different amphibians and reptiles, and last but not least the sheer exploding vegetation provide in this National Park for an undescribable nature experience. Some of the old camps have been sustainably modernized, and offer to visitors luxurious comfort and the knowledge to be gently integrated into the once again intact ecosystem. Even the Langtang National Park, which lies on the border with Tibet in the north, attracts with very special flora and fauna. In particular, the forests reveal a unique variety of vegetation, as well as rare species of mammals, such as the ghoral- and the serow goat, which can be observed here.
Also on the border with Tibet stretches out the terrain of the Shey-Phoksundo National Park, to the development of which the WWF has particularly paid attention in recent years, since the lake Phoksundo not only offers a particularly picturesque sight, but is above all a unique ecosystem. In the newest Nepalese National Park Banke in the south, the government especially promotes since 2010 the development of eco-tourism, in order to preserve the biodiversity of this subtropical habitat for animals and plants, and to open up a meaningful and sustainable source of income to the people of the surrounding villages.
History
Archaeological evidence indicates a settlement of the Kathmandu valley since about 30,000 BC, although the area was united and defined as a kingdom for the first time by the Newar in the Middle Ages (around the 14th century). Then the Gorkha forcibly seized the power in the 18th century, however, in doing so they came in the way of the British and their East India Company and had to give up some areas of Nepal. Already in the middle of the 19th century, the king lost his power over Nepal and a republic, which was allied with the British, began to establish itself. Over some violent detours, and sometimes also the return to the monarchy, defined itself in 2008 the Democratic Republic of Nepal.
The predominant religion since ancient times is Hinduism, whose imprint is evident everywhere in the daily life of the Nepalese, and its caste system foreordaines many people's lives, despite a ban in the 1960s. In the high mountains in particular, where already early on peoples, which are mainly originating from Tibet have immigrated, the Buddhist faith prevails with its traditions and rites and its exceedingly peaceful lifestyle. The Hindu and the Buddhist cultures have left architectural traces everywhere in the country, which enriches a Nepal holiday culturally. In many remote villages, people live today as many 100 years ago, and enable a direct contact with the history of Nepal.
Economy
The Nepalese economy is traditionally mainly based on agriculture, in which work about 70% of the people. Here the Terai provides with its fertile soil the possibility to cultivate rice, potatoes, corn and other grain varietes, as well as several types of citrus fruits, the subtropical forests are used for the timber industry. Gradually more importance for the export attains the harvesting of medicinal plants at higher altitudes. Otherwise, the rather poor soils supply here mainly the food for herds of sheep, goats and yaks. The mining industry in Nepal is not as significant as one might like to assume - for that the terrain is too impassable and the deposits of limestone, lignite and mica are being only little mined. The manufacturing industry is supported by the Government of Nepal with tax allowances since several years, and gradually starts to prevail in the more densely populated areas. Tourism is also an important economic factor, which enriches the services sector, and in which more and more people find a good livelihood.
Festival Calendar
In Nepal both Buddhist and Hindu holidays are being celebrated. Since the Tibetan calendar depends on the lunar cycle and individual astrological observations, most holidays in Nepal are not being celebrated by the western, fixed calendar days, but vary from year to year. We are happy to advise you by phone, about which festivals can and should be integrated into your travel planning - depending on your focus of interest. An immersive experience is a visit to a Buddhist or Hindu festival in Nepal in any case!
After Losar, the Buddhist New Year celebration, which takes place in January or February, the Spring Festival Saraswati Puja is the next opportunity to see ritual ceremonies. To the goddess Saraswati, the goddess of knowledge and learning, flowers, fruit and sweets are being sacrificed on this day, and since she also benevolently influences the relationships of couples, many people marry on this day.
In February or March, the festivities include the honoring the great Hindu god Shiva, to whom also many sacrifices are being made during these days. Next comes the Hindu festival Holi, the festival of colors, which is celebrated also in Germany more and more frequently. Over the spring and summer, many other festivals are being celebrated, which are connected with sacrifices for a good harvest and healthy animals. Especially horses play a special role, and appear in various competitions against each other; on the great day of Buddha in May, freedom is being given to many a songbird.
The biggest festival of the Hindus, Dashain, takes place colorfully and cheerfully in October, as well as the mask festival Mani Rimdu. The Festival of Lights Diwali (also Tihar) concludes in November the celebrations of the year, and the sacrifices which are to be offered to the gods on this day ensure a bountiful harvest. A wonderful and moving sight are the hundreds of lights in the decorated temples, houses and streets in any case!
Top