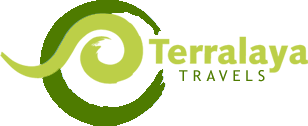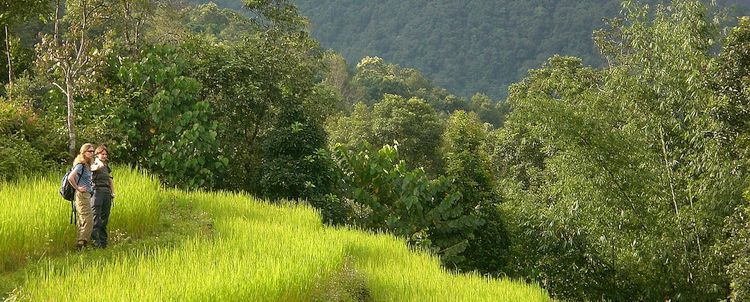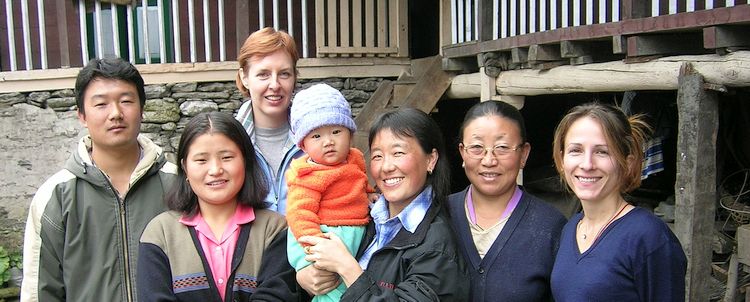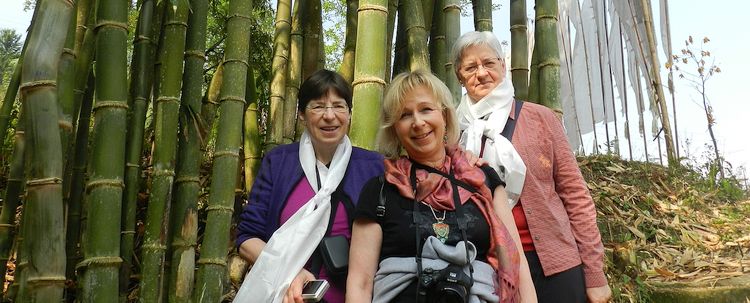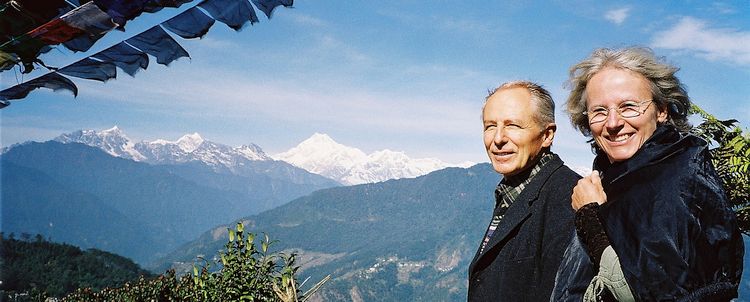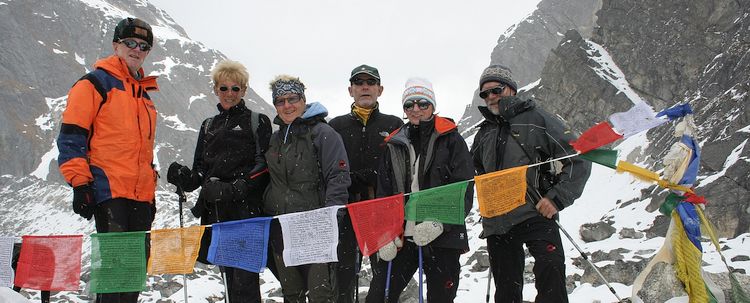 You are here :
Trekking Module: Goechala Trekking to the Khangchendzonga Sikkim
• 5 - 12 days • 3 - 8 hours walking time / day • moderate - challenging • trekking path, open terrain, scree slopes • Overnight in tent & fixed accommodations (3 - 4 x) • max. altitude: 4000 - 4950 m above sea level • Accompanied by: trekking guide, kitchen staff / porter / pack animals (pony / dzo / dzomo) •
Introduction
Trek with us very closely to the third highest mountain in the world, Mt. Khangchendzonga (8586 m above sea level). For the people of Sikkim this mountain is a protecting deity and guardian of spiritual treasures. In its honor a unique mask dance festival is annually celebrated at the Royal Palace in Sikkim. To date, the ascent of this mountain is not officially allowed in Sikkim - in line with the beliefs of the people that this sacred mountain has to remain untouched by man.
Hike through the wide variety of vegetation levels - from the fertile valley up through terraced rice fields, to the lush green rhododendron forests, which are studded with orchids, and into the barren alpine zone. Enjoy the view of the snow capped Himalayan giants, and the slopes of the Kangchenjunga National Parks, which are covered with dense, pristine forest. The highest point is the Goechela mountain pass with 4950 m above sea level. From here, the mountain Kangchenjunga seems so close that you can touch it, and the sight of it compensates you for all the effort. This is the best known and most popular trekking route of Sikkim. You will stay over night in a tent, if possible in a mountain cabin (2 - 4 x) and hike between 4 and 8 hours per day on trekking paths which are only partly developed, as well as partially through open natural landscapes.
It is possible to shorten this trekking to 5 days, or to prolong it to 12 - 14 days. The trekking is being rounded off by village walks, encounters with the people and getting to know the cultural heritage of the region.
Highlights
Experience the different vegetation zones of the Kangchenjunga National Park up close, and trek from dense, biodiverse jungle and rhododendron forest up above the tree line, into the alpine zone.
Biodiversity
Experienced trekking team
With a little luck with the weather, you are being rewarded for your efforts with a magnificent view of the gigantic Mt. Khangchenjunga in dawn skies.
Trek with pack animals such as ponies and dzos / dzomos (cross between yak and cow)
Enjoy varied, balanced, hot meals
Trekking Route
Day 1 : Arrival to the starting point of the trekking from Travel Module Sikkim Base / East
Day 2. - 9/10 : Option 1: Trekking from and to the mountain village of Yoksum, 1780 m above sea level, on a direct route via Dzongri to the vantage point Goechela, 4950 m above sea level.
Day 2. – 13 : Option 2: Trekking from and to the mountain village of Yoksum, 1780 m above sea level via the pastures of Dzongri to the vantage point Goechela, 4950 m above sea level, with a detour to the Rathong glacier and Lake Lhamuney.
Day 2. – 6 : Option 3: Trekking from and to the mountain village of Yoksum, 1780 m above sea level to the alp Dzongri with vantage point Goechela, 4000 m above sea level.
Day 2. - 13/14 : Option 4: Trekking from a Limboo village to a sacred cave and along the border region between Nepal and Sikkim on a remote and rarely traveled route (partly without solid trekking paths), past mountain lakes via the alp Dzongri to Goechela, 4950 m above sea level and finally back to Yoksum.
Day 1 - 9 : Option 5: Trekking from a traditional Gurung village to Goechela and back to the mountain village of Yoksum.
Final stage : Arrival in Yoksum and overnight at the hotel. Continue with Travel Module Sikkim West.
Best Travel Period
Mid-March to May and October to mid-November.
Temperatures: Depending on the altitude during the day from about +5 to + 15° C, at night between – 10
and + 5°C. Snowfall can be expected especially starting from mid-November until February!
Top