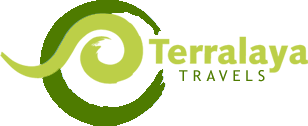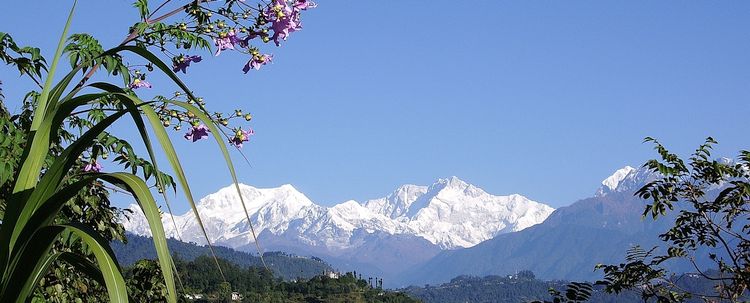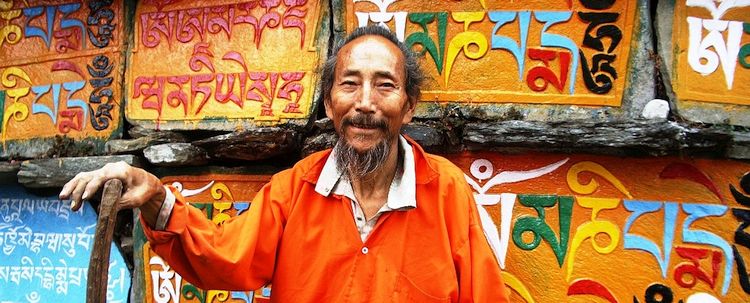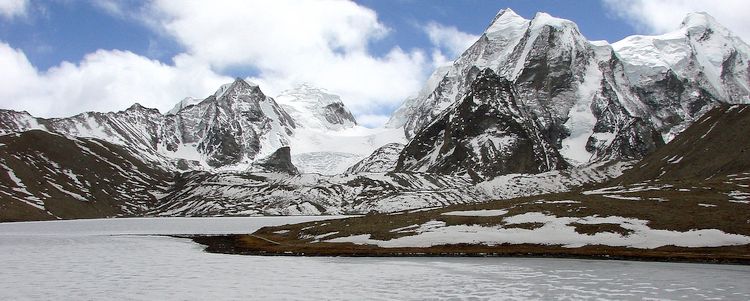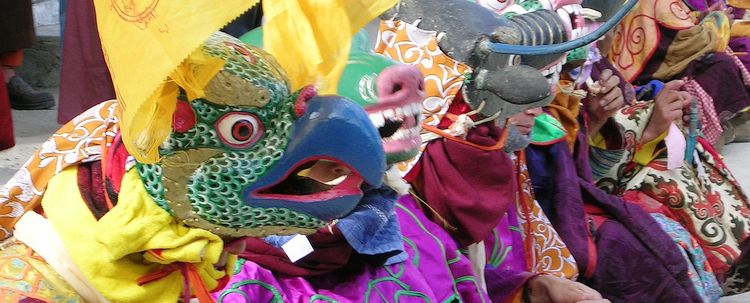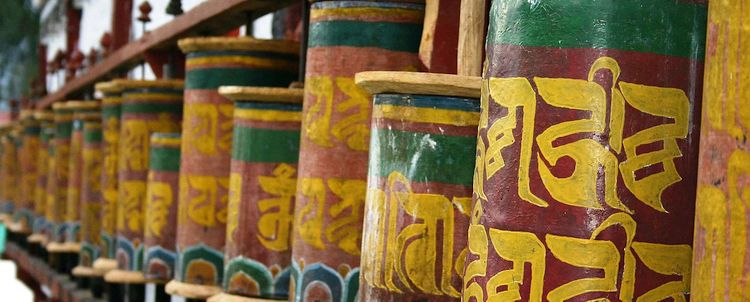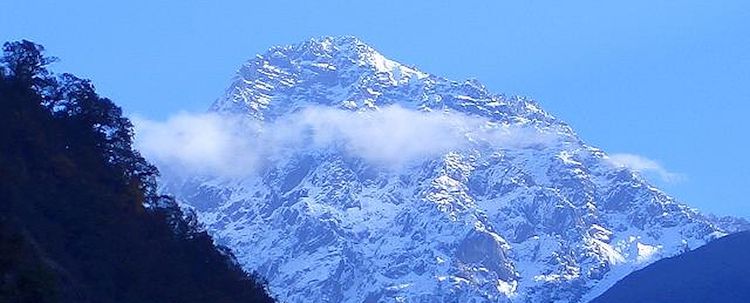 You are here :
Mountain Scenery and trekking
Best Travel Time | Sikkim in Brief | Peoples and Religions | Food | Flora and fauna | National Parks and Nature Reserves | History | Economy | Mountain Scenery and trekking | Festival Calendar
Many peaks in the fantastic mountain scenery of Sikkim reach heights of over 7000 m. Recently only, a few mountain peaks between 5500-6000 m have been opened to the ascent (authorizations are required) and the possible trekking routes enrich the experience of the mountain landscape of the Himalayas. Extremely impressive and towering over everything is of course the Kangchendzönga - engl. Mount Kangchenjunga - with 8586 m the third highest mountain on the planet. However, to climb to the summit is not allowed - partly because it is regarded by the natives as a sacred mountain and protected by the government to preserve its unspoiled state. This also applies to other sacred mountains, thereto count in Sikkim Mount Pandim, the Kabru Dom and Mount Siniolchu.
The most amazing fact about the mountain world of Sikkim is probably the surprising change of the vegetation from valley to valley - after crossing a mountain pass one sometimes appears to be in a completely different world. Up to an altitude of about 3700 m stretch the deciduous and coniferous forests, then there is the typical low altitude vegetation and screes left behind by glaciers. Yet even here, man has left his mark - small settlements, lonely mountain huts and Buddhist temples offer hospitable warmth. From about 5000 meters upwards then the Himalaya is covered by a full year layer of snow and ice, whose pristine silence and purity makes clear why a people can call a mountain sacred.
Physical challenge
Description and area of the trek
Maximum altitude
Duration
Type of accommodation
Remarks / Description
Hiking
moderate
Sikkim village and nature walksSikkim East, West, South and North
1800 – 4000 meters
1 – 6 hours
mountain cabin, farmhouse or homestay
Get a glimpse into the rural life of the Himalayas, take a walk through cardamom plantations and get acquainted with the farmers amidst the mountains of Sikkim.
TREKKING up to 3600 meters
easy to moderate
Lepcha Sacred Hill TendongSikkim South
2100 –2690 meters
5 hours
Homestay or mountain cabin
A trek through primeval jungle with a wide animal and plant diversity up to Tendong - the mountain of the raised horn. According to the legend, this mountaintop had risen during a major flood disaster and had saved so in a magical way the people's lives.For Buddhist hermits the site was a popular place for meditation. Enjoy an impressive view of the Mt. Khangchendzonga, the Chola summits, the Singelila mountain range and the plains of Bengal.
moderate
Sacred CaveSikkim South & West
1850 – 2900 meters
1 - 3 days
Tent, montain cabin or homestay
Whether you wish to practice Tibetan Buddhism, or you would like to visit the mystical, sacred caves of Sikkim for other reasons, do take advantage of our trekking experience in this area. In order to reach two of the four sacred caves, you need 2-3 days. On request accompanies us a Buddhist Lama.
easy to moderate
Maenam Wildlife SanctuarySikkim South
2200 - 3200 meters
7 – 8 hours
homestay or mountain cabin
With a little luck with the weather, you can enjoy a fantastic 360º panoramic view on the Himalayas of Sikkim during this trek - from Mt. Khangchendzonga across the eastern Himalayas from Tibet and Bhutan to the plains of West Bengal. Also, you might catch a glimpse of rare mammals and pheasants. On the summit of the Maenam a small temple has been built. A lush green canopy of pristine rhododendron and magnolia forests under which bamboo and countless orchids and other flowers spread; a carpet of moss, ferns and climbing plants make this trek an impressive experience.
easy to moderate
Rhododendron TrekkingSikkim West
2200 –3600 meters
2 – 5 days
tent
Discover the diversity of the rhododendrons on this jungle trek and enjoy a daily panoramic view of the Mt Khangchendzonga. Quite easy stretch with slight differences in height.
easy
Dzongu – TholungSikkim North
2900 meters
4 – 6 days
Tent or mountain cabin
In the homeland of the Lepchas, the native inhabitants of Sikkim: you traverse pristine jungle in all its living diversity, discover dozens of waterfalls, a remote monastery and several natural sanctuaries on this really easy trekking route. Various village visits can be integrated.
TREKKING up to 4800 meters
moderate
Alp DzongriSikkim West
4100 meters
4 – 5 days
mountain cabins and tent
Experience the Mt Khangchendzonga just below the tree line and the transition from the subtropical to the alpine vegetation zone.
moderate
Yumthang – Lachen Sikkim North
4750 meters
5 days
tent
Enjoy the views of the Tibetan high plateau and of some mighty mountain peaks in North Sikkim. Trek across remote areas with alpine vegetation.
TREKKING up to 5500 meters
moderate to demanding
Classic Mt. KhangchendzongaSikkim West
4950 meters
8 – 14 days
tent and mountain cabins
Classic trekking of Sikkim in the Khangchendzonga National Park with direct views of its summit. Discover the differences in the vegetation from the the subtropical to the alpine zone.
demanding
Singelela – Göchela Sikkim West
4950 meters
11 or 13 days
tent
Demanding trekking in remote highlands. Enjoy the pristine alpine vegetation and Himalayan landscapes, discover secluded lakes and the beauty of the views of the Himalayas of Sikkim and Nepal.
moderate
GreenlakeSikkim North
4950 meters
8 – 11 days
tent
A remote side valley in the alpine zone with fantastic views of the mountains and glaciers of North Sikkim.
EXPEDITIONS and MOUNTAINEERING above 5600 meters
moderate
Mt. ChogyalSikkim West
5830 meters
13 – 14 days
tent
Enjoy the views of the peaks of Kokrung and Rathong as well as the Malkau mountain range. The Mt Khangchendzonga is always in view. The climb to the summit itself can be very demanding due to snowfall and climbs of up to 35 ° on scree slopes. The trek must be registered six months in advance.
Demanding, only with technical support
Frey's PeakSikkim West
5830 meters
12 days
tent
The summit is rocky, steep and partly covered with ice, so that on this tour great physical challenges await. Some sections can be mastered only by experienced climbers
Demanding, only with technical support
Mt. ThinchenkhanSikkim West
6050 meters
12 days
tent
Experience in rock and ice climbing is required. Registration of this trip six months before the start.
moderate
Mt. BrumkhangtseSikkim North
5635 meters
7 – 9 days
tent
This peak in the remote North of Sikkim is one of the easier to conquer. Nevertheless, a permission must be applied for, six months before the start of the tour
Top